OCCS 13 & Over Meet of Champions: Friday
By Reach for the Wall Staff
In the 3rd night of finals, the session events included the 200 Breaststroke, 200 Butterfly and 50 Freestyle. There will be 2 more days of swimming allowing for every event except the 1650 free. One of our readers, Michelle Vanderloo provided this shot of the podium after the 400 IM. What would a 'Meet of Champions' be without a podium?: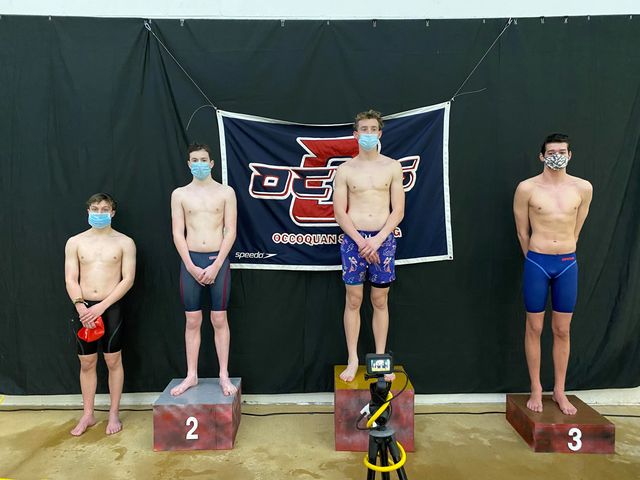 Here's the rundown of events and top swims Friday night:
200 Breaststroke:
Girls 13-14: Natalie Kaldahl and Clara Condon vied for 1st, with Natalie touching in :32.11, just ahead of Clara who finished in 2:32.52
Boys 13-14: Zack Black and Maddox Nham too the top 2 spots, Zach winning in 2:21.56 to Maddox's 2:22.17
Girls 15 & Over: Abby Daniel notched anothe rvictory and best time by .077 seconds finishing first in 2:17.48
Boys 15 & Over: Another Breaststroke battle between Aiden Grady and Dawson Truong. The order of finish flipped from Thursday night as Aiden took the top spot finishing in 2:06.24 while Dawson finished just behind in 2:06.53. Both achieved personal bests by several seconds!
200 Butterfly:
Girls 13-14: Danielle Hughes set the pace and touched the wall first in 2:10.49, achieving a personal best by 4.81 seconds.
Boys 13-14: Owan Hoban and Aiden Grendysz took the race to the final touch, where Owen got his hands on the wall first with a 1:59.20, followed closely by Aiden in 1:59.58, both personal bests times
Girls 15 & Over: Sienna Golembowski led the way finishing first in 2:02.07, second place went to Sophia Heilen in 2:03.95, which was a personal best for Sophia.
Boys 15 & Over: Jack Mowery was 5 seconds clear of the field finishing in 1:47.64, which is a bit off his best, but is the 2nd fastest time in the DMV this season! Stephen Gilbert 1:52.47, and Stuart Pliuskaitis 1:54.76 captured 2nd and 3rd respectively, both dropping several seconds to achieve their personal best times.
50 Freestyle:
Girls 13-14: Rosangela Le and Rachel Conley finished 1-2 in 25.53 to 25.68, both achieving personal best times
Boys 13-14: Owen Hoban captured his second win of the night by out sprinting Ken Chang, 22.47 to 23.19.
Girls 15 & Over: Emily Alice Haughan took the top spot in 24.20, followed by Mealy Cronin in 24.58, both girls achieving personal bests (although Emily was a bit faster in the prelim race)
Boys 15 & Over: Joshua Hochard and Aiden Grady were the top 2 finishers, Joshua winning in 21.58, Aiden 2nd in 21.88, both achieving personal bests.
Follow along via livestream on the OCCS YouTube Channel
Keep swimming fast!!