The 'daily dryland': Ideas to stay active while at home-week 9
By Reach for the Wall Staff
#TechniqueTuesday
Looks like the longer we go with the home workouts, the more hashtags we will generate for the day of the week 🙂 USA swimming has jumped into the webcast arena and today's event is presented by Russell Mark. If you don't know Russell, check out the article from the Washington Post from July 2019. In the article, Rick Maese describes Russell with the following: "Russell Mark, USA Swimming's high performance manager, whose unusual background and engineering smarts have helped American coaches and swimmers tap into detailed analytics and treat a simple sport like a complex science." and "Mark's job is to apply data and video to help the nation's top swimmers shave tiny slivers of time in the water. Virtually every sport has undergone an analytics revolution of sorts in recent years, and Mark's role is to help make USA Swimming faster by being a lot smarter."
Join him today @1:00 and see how he breaks down backstroke!
❓: Technique Tuesdays with Russell Mark – BACKSTROKE
📆: Tues., May 12
⏰: 1p ET
Register: https://t.co/SdwBXYMCs4@RussellMark1226 gives backstroke advice in the second of four Technique Tuesday sessions!https://t.co/aqQ6VMr1gv

— USA Swimming Insider (@USASwimInsider) May 11, 2020
---
Today's dryland comes from swim coach Abbie Fish:
WU:
Backward burpees
Rollover v sits
Jumping jacks
Mobility:
3×20 seconds of sleep stretch on each side
Downward Dog
2x 4 min AMRAP
20 push ups
20 front squats
Squat jumps
Follow along with her via YouTube:
---
Today's 'not to miss' Webcasts:
Fitter and Faster:
BREAKING IT DOWN: FLIP AND OPEN TURNS
Tuesday, May 12 @ 5pm EST
Suggested audience: Swimmers and Coaches
Led by: Olympic Gold Medalist Tyler Clary and 2-Time Olympian Chloe Sutton
IMPROVE YOUR TIMES BY LEARNING HOW TO DO THE FASTEST FLIP AND OPEN TURNS IN THE WORLD
In swimming, especially short course, flip and open turns are a huge part of every race. Learn how to get into and out of the walls faster to beat your competition!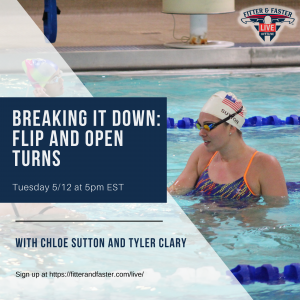 ---
CG Sports Network:
1:30pm EDT – Head Coach Jamie Barone and Toni Armstrong get together to bring us a real, in-depth discussion on authenticity for coaches and athletes. Join Leadership Power Half-Hour Today! 
2pm EDT – Laser-focused dryland!Train with 3x-Olympic medalist Katie Hoff today!
Josh Davis, 3x-Gold Medalist, and Jason Lezak, 7x-Olympic Medalist, teamed up to film "Getting Stronger with Jason Lezak", as mentioned on Motivation Monday. Rent or purchase your own copy here!