Camille Spink punches her ticket to Wave II
By Reach for the Wall Staff
Camille Spink (NCAP) wasted no time in setting the pace in the 100 Freestyle, the first event of the Wave I trials. In her prelim swim, she took the top seed finishing in 55.63, well ahead of her seed time of 56.01. In the evening final, she again took charge of the race, hitting the 50 split ahead of the field in 26.29 (her morning split was 26.6). She proceeded to bring it home in 28.96, to touch 1st in 55.25! Also notable that Camille was the only one in the field to break 29 in the 2nd 50! With this win, she now qualifies for Wave II and can swim this race, plus the remainder of her events June 13-20th.
Sarah Shakelford (VT/NCAP) also competed in the 100 Freestyle final, placing 4th in 56.20, besting her prelim time of 56.28, but stil a bit off her entry time of 55.85. Congratulations Sarah!
In the Women's 200 Butterfly, Eleanor Sun (NCAP) crushed the B-Final taking the top spot in 2:13.76, 1.56 seconds ahead of the next finisher. Jill Berger (NCAP) placed 3rd in 2:15.42. In the A-Final, Mackenzie McConagah battled throughout a very tight race with the spread from 1st to 3rd only .04 seconds, touched the wall 7th. Her time of 2:13.81 was just shy of her entry time, but about .5 second faster than she swam in prelims- Congratulations!!

The Women's 100 Backstroke A-Finalist, Tatum Wall (NCAP), bested her prelim swim, touching in 1:02.44 for 6th place overall.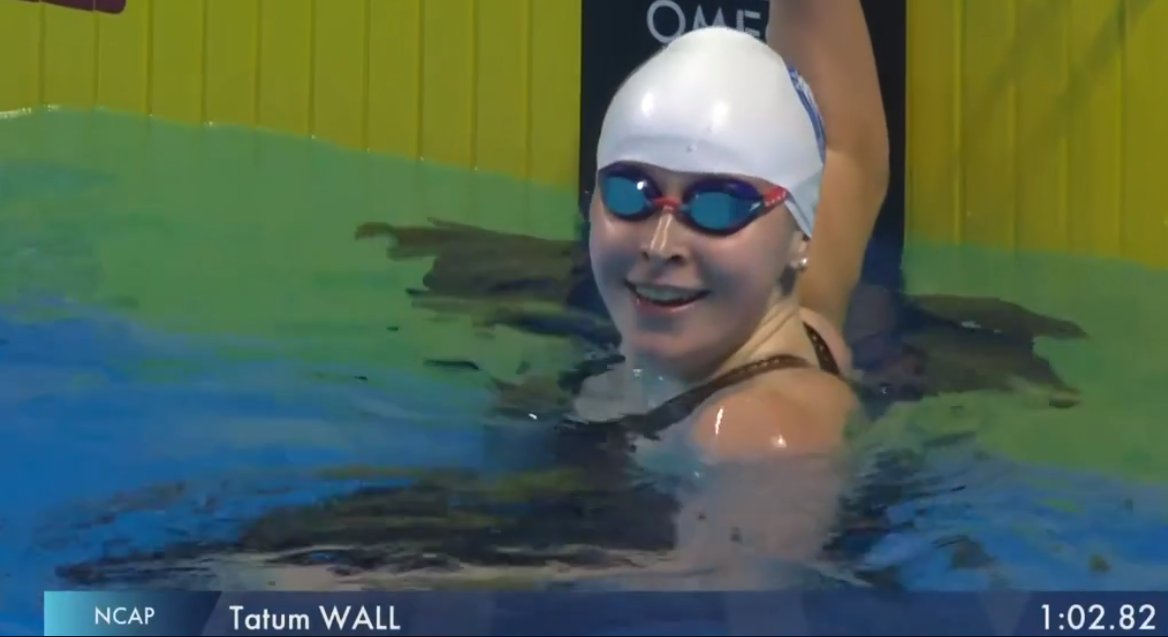 In the Men's 100 backstroke, Drew Carbone (Unattached) took the top spot in the B-Final, blasting a 55.73, which surpassed both his entry time and prelim swim-Way to go Drew!
---
Today's events are the 200 Freestyle, 100 Breaststroke and 400 IM, as with yesterday, you can watch live via USA Swimming or NBC Sports
Here's who's competing from the DMV:
Women's 100 Breaststroke: Georgia Johnson (NCAP)
Men's 100 Breaststroke: Jake Ball (TANK), Eli Fouts (Wisconsin/RMSC), Jakob Frick (NCAP)
Women's 400 IM: Eleanor Sun (NCAP)
Good Luck!!